THE PRINCIPLE OF ANTI-AGING
Anti Aging aims to:
To prevent
To slow
To treat as appropriate
the processes of aging at the age of 40 years to maintain physical vitality and mental balance.
In contrast with the literal translation of the word, anti-aging is not about stopping the aging process but rather to adapt it in order to sublimate it and get it accepted more easily.
"Prevention is better than cure" is the right attitude that you should adopt from a very young age so as to preserve your youth to the maximum:
Refraining from exposure to the sun between 11am and 3pm
Prevention of obesity
Avoidance of cigarettes
At the age of 40, it is possible to make a clinic and laboratory assessment that will determine your "biological age"; this will be compared to your actual age so that you may be advised on a subsequent "anti-aging" support.
Food and Nutritional Behaviour
A balanced diet is a basic foundation of the Anti-aging:
Support for anorexia, bulimia and obesity by a dietician.
Anti-aging medical techniques
Laser treatment



Photorejuvenation by stimulation of collagen
Treatment of skin imperfections: varicosities, pigmentation
Permanent hair removal
Treatment of vascular anomalies of the lower limbs
Tattoo removal



The Fillers are used to delay and reduce expression lines



Botox: especially at the third area of the face, works by blocking muscle contractions giving the appearance of wrinkles in precise locations
See infosheet
Products fillers:

Essentially hyaluronic acid, more or less reticulated and volumising. The final products have been banned because of their risk of late granuloma.
Radiesse: composed of calcium hydroxyapatite crystals that fill medium and deep depressions, it also stimulates the production of collagen. Its effect is more lasting than that of hyaluronic acid.

Lipomodelling: this is an autograft of your own fat cells, removed by liposuction and reinjected using microcannulas. The results are considered in terms of both the volume and improvement in the texture of the skin.



Peels: Different chemical agents can make skin pigmentations disappear and regenerate the skin.


Platelet-Rich Plasma (PRP)



Regeneration of the skin by intradermal injection
Restructuring of volumes by fat injection
Stimulation of follicles in the scalp in case of hair loss
Definition: Platelet rich plasma, or PRP, is defined as a suspension of platelets in plasma, characterised by a platelet concentration which is higher than the concentration of the original blood collected.

It is obtained by centrifuging a tube, syringe or pouch containing whole blood, generally collected at the elbow groove. Formed blood elements (erythrocytes, leucocytes and platelets) are separated from the plasma according to their different densities. PRP is obtained by collecting the plasma phase and platelets, which have the lowest densities (see Figure below).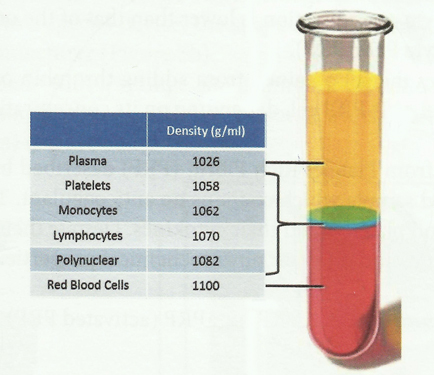 Mechanism of action: The interest of PRP in regenerative medicine is due to the presence of many growth factors in platelet alpha-granules. The term "growth factors" includes many polypeptides involved not only in cellular growth phenomena, but also in other important physiological processes, namely in wound healing, where they coordinate various stages via complex interrelations, at extremely low concentrations, at the in vitro picogram level.
Other proposed techniques sometimes (fils d'or, carboxy therapy lipotomy, radio frequency, fils crantés) not only have never proven their effectiveness but are often responsible for serious complications (see www.plasticiens.org).
Click on the links below for more information.
Cutaneous aging
Little wrinkles - cutaneous aging may result from various factors:

Heredity
Climate
Food
Type of work
Long exposure to sunlight
Excessive smoking

The skin decreases in thickness and grows hollow, initially creating ridges, which then turn into wrinkles.

Little wrinkles are treated by various chemical agents: peelings or by Laser; specific creams and food complements improve the results.

Wrinkles - if they are accentuated by muscular contraction; the use of botulinictoxin : Botox or Dysport, numbing the muscles temporarily, making it possible to rebalance muscular contraction, and making these wrinkles disappear. Especially for the upper third part of the face, chin, neck and the low neckline.

The injections not very painful, are carried out after a thorough examination of the face. Their effect last from 4 to 6 months at the beginning, to then increase from 8 to 10 months after about ten injections. Their results start appearing as from the 4th day.

If they are deep or not accessible to botulinic toxin, we use filling products or 'fillers', whose main biodegradable form is hyaluronic acid - their lifespan is 12 to 24 months depending on the degree of reticulation.

Their injections are made under local anaesthesia with immediate results.
Treatment for pilosity
Treatment of vascular problems of the face and legs
Treatment pigmentation disorders and photorejuvenation
Peeling using kojic acid in the case of extended pigmentation, or Alexandrite Laser for limited pigmented spots.


Photorejuvenation - technique of renewal of the skin which uses the Yag Laser, but which does not have any side effect (redness, pain). 5 to 6 30-min sessions are carried out, at intervals of 15 days.

Fighting against the effects of surface cutaneous aging which



Decreases the dull aspect of the skin
Tightens the pores
Tightens dilated vessels
Loss of volume of the face and its contours
This is the gradual disappearance of fatty tissue in specific areas of the face: cheekbones, cheeks, arch of eyebrows, chin.

They can be corrected by lipostructure (grafting of fatty tissue) or injection of an adequately filling product (AQUAMID SVBG) which are stable for a period of 16 months.
Cosmetic dentistry and Implantology
The improvement of the smile contributes to facial esthetics - we will personally give you the particulars of the best specialists.
Plastic surgery is no more a social privilege, but, nevertheless, a very rigorous surgical speciality, which imposes optimal precautions in order to minimise risks.
Read more
>>